The SASP2019 Conference will take place at the University of New South Wales (UNSW) Kensington Campus, in the Scientia Building (see map below). UNSW is close to many restaurants, shops, and hotels, and is located 10 minutes from Coogee Beach, and 20 minutes from famous Bondi Beach, the city, and Circular Quay (where you can enjoy the view of the Sydney Harbour Bridge and the Sydney Opera House).
The suburbs nearest to the conference are Randwick and Coogee. You may choose to stay in one of these suburbs or closer to the city. Buses travel frequently to the university (see here for public transport information). Taxis and Ubers are also readily available.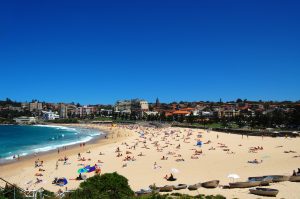 Coogee Beach is a 30 minute walk or 10 minute drive from UNSW.
Getting here from the airport
UNSW is a 15-30 minute drive from Sydney Airport, depending on traffic. Both taxis and ubers are available for pick up from Sydney airport and will cost approximately $25-35. Alternatively, you can catch the train to Green Square Station and then the 370 bus to UNSW, which will cost approximately $13.
Getting around while you are here
If you wish to travel via public transport, you will need to pick up an Opal Card which you can do from the airport train station or from most newsagents and convenience stores. The Opal Card is free but you will need to deposit a minimum amount of funds onto it. Please remember to 'tap on' at an Opal card reader at the start of a trip and 'tap off' at the end. Please see more information here.  On some train services, you may also tap on with a valid credit card.
Parking at UNSW Kensington campus (the conference venue)
Parking on the university campus is free when parked in a marked bay on Thursday 25 April (public holiday) and on Saturday 27 April
To park on the university campus on Friday 26 April, you will be required to pay for parking. Pay and display parking meters accept cash and credit card payments, and rates can be found here.
An alternative to parking on campus is to join Oscar and reserve parking within a 5min walk from campus from $2/hr or $10/day
Public transport information to UNSW Kensington campus
Accommodation
There are plenty of accommodation options near the university for you to stay. We have provided a list of possible options for people of all budgets here. We have also negotiated special rates for conference delegates at two hotels near to the university and walking distance from Coogee Beach:
Crowne Plaza Coogee Beach offers guests an indulgent holiday by the sea. With stunning ocean views, the Coogee Beach Sydney hotel is located just 20 minutes from Sydney CBD and Sydney Airport and 9 minutes from UNSW. We have negotiated a special rate of $289/night (max 3 guests) for a flexible rate that is inclusive of one buffet breakfast. To book this special rate, please click here. For more information about the hotel, click the heading above to be taken to their website.
Coogee Sands Hotel and Apartments
Coogee Sands Hotel & Apartments is a 4 star property located just 20 metres from picturesque Coogee Beach and 11 minutes drive from UNSW. We have negotiated a special rate of $190/night for a studio, subject to availability. In order to receive this rate, please phone the hotel directly on 1800 819 403 and mention UNSW. Please click the heading above to be taken to their website.
Click here for more information and to register for the conference!