Conference
The annual conference of the Society of Australasian Social Psychologists (SASP) has a long history dating back 40 years, in recent years attracting between 130 and 170 delegates. It is the most popular avenue for the dissemination of current social psychological research within Australasia, and attracts pre-eminent national and international researchers. The conference is also characterised by a strong postgraduate student representation.
Presentations and posters cover a diverse range of social psychological research topics (ranging from intra-psychic process, interpersonal processes, intra-group process, and intergroup processes) and methodologies (experimental, quasi-experimental, survey, qualitative, and discourse). Our research is concerned both with basic psychological processes and areas of applied social psychological research, such as psychology and the law, health, relationships, and organisational psychology.

Summer School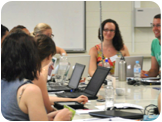 Every second year, SASP organise a Summer School for postgraduate students who are members of SASP. The Summer School aims to provide an intensive learning and networking environment modelled on the European Social Psychology Summer School. It is a fantastic opportunity for postgraduate students from Australasia and overseas to further their knowledge and experience in social psychology and to establish strong networks with academics and postgraduate students in the area. Students work for five days with academics in one selected area of social psychology to develop their knowledge and research skills.
Joint Summer Schools
SASP is participating in a Summer School exchange agreement with the European Association of Social Psychology (EASP), where a limited number of students from each association are guaranteed places in the other association's Summer School (see https://sites.google.com/site/easpsummerschool2016 for general information).
Postgraduate members of SASP should apply by completing this form. Email completed forms to  by January 31, 2016. Also arrange for two referees to send the attached reference form to the same address by the same date. Do not send your applications to the EASP summer school email address. 
Selection will be conducted by members of the SASP executive. Preference will be given to applicants who would no longer be eligible for the next summer school (i.e., finished by 2018) and who have not already attended or been accepted to attend the SPSP or SASP summer schools. There is also a strict policy that only one application per (lead) supervisor will be considered. Students must be prepared to be assigned to a work stream different from the one they rank first, and should not apply if they are not flexible in this regard. It is likely that one SASP member will be assigned to each work stream.
For any questions about SASP's internal selection process for the summer school please contact Nick Haslam (), and for questions about the event itself please contact
Student members of SASP may be interested in the 2016 European Association of Social Psychology Summer School, to be held in Exeter from the 1st to the 13th of August this year. There will be five work streams:
1: Researching prosocial and antisocial behaviour in public spaces
Nick Hopkins (University of Dundee); Mark Levine (Exeter); Miriam Koschate-Reis (Exeter)
2: Communication and the emergence of identities
Tom Postmes (University of Groningen), Anna Rabinovich (Exeter), Tim Kurz (Bath)
3: The group dynamics of unequal status positions
Jolanda Jetten (University of Queensland); Andrew Livingstone (Exeter); Joe Sweetman (Exeter)
4: Using theory to inform behaviour change interventions
Martin Hagger (Curtin University); Joanne Smith (Exeter)
5: Humanization and dehumanization: Process and application in contemporary societies
Maria Paola Paladino (University of Trento); Manuela Barreto (Exeter)